Towards a global system for assessing, monitoring and reporting on biological invasions
          2 – 4th March, 2015, Leipzig, Germany
Invasive alien species of animals, fungi and plants cost the taxpayer billions each year. These species are second only to habitat transformation in documented severity of impacts on biodiversity. Species movements beyond their historic distributions will continue, driven largely by increased volumes of trade and increasingly complex trade routes.
There is currently no system in place for the systematic evaluation and monitoring of invasive alien species. To improve knowledge and information in this field, Melodie McGeoch (Monash University, Australia) and Piero Genovesi (IUCN Invasive Species Specialist Group) organised a workshop in close collaboration with GEO BON and iDiv. The workshop took place from 2nd to 4th March 2015 in Leipzig, Germany.
22 high level scientists and representatives from 14 countries came together with international policy experts Dr Myriam DuMortier from the European Commission, Dr Craig Hilton-Taylor from the IUCN SSC Red List Unit, Dr Nick Holmes from Island Conservation, Dr Sean Murphy from CABI, Dr Jon Paul Rodriguez IUCN SSC and Dr Junko Shimura from the Convention of Biological Diversity.
The workshop had three main aims: First, to identify and agree on a minimum set of Essential Biodiversity Variables to form the basis of a global observation system for biological invasions. Second, to develop guidelines for national schemes to support impact classification and Aichi Target 9 of the Strategic Plan for Biodiversity (2011-2020). Third, to progress implementation of the IUCN alien impact classification scheme.
During the workshop, the experts worked out a first set of variables to define a minimum information set to capture the major dimensions of biological invasion as a driver of biodiversity change. There was a strong focus not only on the spread and impacts of alien invasive species but also on monitoring the pathways of invasion.The outcomes from this meeting will support not only national governments but also the Convention of Biological Diversity (CBD) and the regional assessments of the Intergovernmental Science-Policy Platform on Biodiversity and Ecosystem Services (IPBES).
This workshop is part of the GEO BON and Monash University funded project Black Listing Invasive Species for Monitoring and Reporting.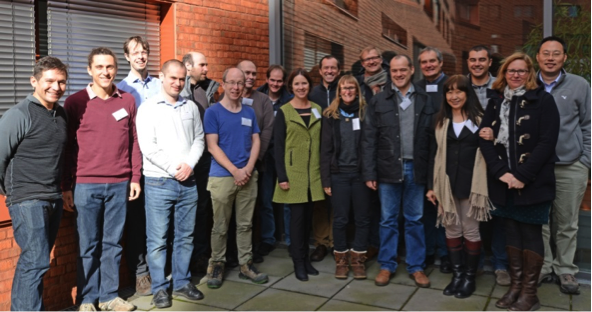 Participants (from left to right): Miguel Fernandez, Guilluame Latombe, Marten Winter, John Wilson, Jan Pergl, Donald Hobern, Petr Pyšek, Jonathan Jeschke, Melodie McGeoch, Tim Blackburn, Sabrina Kumschick, Sven Bacher, Riccardo Scalera, Piero Genovesi, Junko Shimura, César Capinha, Helen Roy, Cang Hui
---
Participants
Project participants 
| | |
| --- | --- |
| Name | Organisation |
| Dr Sven Bacher | University of Fribourg, Switzerland |
| Prof. Tim Blackburn | Zoological Society of London, London |
| Dr César Capinha | University of Lisbon, Portugal |
| Assoc. Prof. Mark Costello | University of Auckland, New Zealand |
| Dr Miguel Fernandez | Centre for Integrative Biodiversity Research (iDiv), Germany |
| Dr Piero Genovesi | IUCN ISSG and Institute for Environmental Protection and Research, Italy |
| Dr Richard Gregory | RSPB Centre for Conservation Science, United Kingdom |
| Dr Donald Hobern | Global Biodiversity Information Facility, Denmark |
| Prof. Cang Hui | Stellenbosch University, South Africa |
| Prof. Dr Jonathan Jeschke | IGB, Germany |
| Dr Walter Jetz | Yale University, USA |
| Dr Sabrina Kumschick | Stellenbosch University, South Africa |
| Dr Guillaume Latombe | Monash University, Australia |
| Assoc. Prof. Melodie McGeoch | Monash University, Australia |
| Dr Jan Pergl | Academy of Sciences, Czech Republic |
| Dr Petr Pyšek | Academy of Sciences, Czech Republic |
| Dr Helen Roy | Centre for Ecology and Hydrology, United Kingdom |
| Dr Riccardo Scalera | IUCN SSC ISSG, Italy |
| Dr John Wilson | Stellenbosch University, South Africa |
| Dr Marten Winter | Centre for Integrative Biodiversity Research (iDiv), Germany |
---
Stakeholders and GEO BON participants
| | |
| --- | --- |
| Name | Organisation |
| Dr Myriam DuMortier | European Commission, Belgium |
| Dr Jörg Freyhof | Centre for Integrative Biodiversity Research (iDiv), Germany |
| Dr Craig Hilton-Taylor | IUCN SSC Red List Unit, United Kingdom |
| Dr Nick Holmes | Island Conservation, USA |
| Dr Sean Murphy | CABI, United Kingdom |
| Prof. Henrique Pereira | Centre for Integrative Biodiversity Research (iDiv), Germany |
| Dr Jon Paul Rodriguez | IUCN SSC, Venezuela |
| Dr Junko Shimura | CBD, Canada |
---
Programme Overview
Session 1: Essential Biodiversity Variables (EBVs) and Invasion Monitoring
Session 2: EBVs for Invasion Monitoring: Guidelines for implementation
Session 3: Stakeholder Meeting: Development of an IUCN Black Listing Process
Programme
Monday 2nd
Venue: Biocity Rm, iDiv
9h00-9h30
Welcome and background
Melodie McGeoch and GEO BON
SESSION 1
Goal: To identify and develop Essential Biodiversity Variables for invasion monitoring in support of policy and assessment processes
  CHAIR: Donald Hobern
Envisaged products from Session 1 and 2:
GEO BON publication (see example)
Journal publication
9h30-10h00
Essential Biodiversity Variables: An introduction and the state of play
Henrique Pereira / Miguel Fernandez
10h00-10h30
Prioritisation for Invasion Management and the role of Black Listing
Piero Genovesi
10h30-11h00
Alien Species Impact Scheme: Update on current developments of methods
Tim Blackburn
11h00-11h30
Tea break
11h30-12h00
Linking Invasive Species Information Systems and Mapping Tools with EBVs, monitoring and Black Listing
Donald Hobern
12h00-12h30
Discussion
All
12h30-13h30
Lunch
13h30-14h00
EBVs for Invasion Monitoring: Outline of work programme
Melodie McGeoch
Venues for working groups: Biocity Rm and Resilience Rm
14h00-15h30
Working groups develop content for
  All
Essential Biodiversity Variables for Invasion Monitoring
15h30-16h00
Working group feedback and discussion
All
16h00-17h00
Outcomes and product delivery
All
Tuesday 3rd
Venue: Biocity Rm, iDiv
SESSION 2
Goals: EBVs for invasion monitoring: Sampling and monitoring guidelines
Chair: Cang Hui
9h00-9h30
EBVs for invasion monitoring: Synthesis of outcomes from Day 1
Guillaume Latombe
9h30-10h00
General discussion: Development of monitoring guidelines for countries based on EBVs
All
Venues for working groups: Biocity Rm and Resilience Rm
10h00-11h00
Working groups to develop guidelines
All
11h00-11h30
Tea break
11h30-12h30
Working groups to develop guidelines
All
12h30-13h30
Lunch
13h30-14h00
Overview of potential synergies with the COST action ALIEN Challenge
Riccardo Scalera
14h00-14h30
Outline of working group tasks
Melodie McGeoch
14h30-16h30
Working groups: Case studies, infrastructure requirements, links back to policy and assessment processes
All
16h30-17h00
Planning the way forward, including discussion of case studies, guidelines, monitoring and Black Listing
All
19h00 –
Group Dinner
  All
Café Cantona
http://www.cafecantona.com/
Windmühlenstraße 29, 04107, Leipzig, 0341 2254302, Booking: Ariane Korn (20 people)
Wednesday 4th
Venue: Biocity Rm, iDiv
SESSION 3
Goals: Stakeholder Meeting: Development of an IUCN Black Listing process – challenges and opportunities
Chair: Piero Genovesi
9h00-9h30
Welcome and background
Piero Genovesi
9h30-10h00
Overview of outcomes from Black Listing Workshop (Sessions 1 and 2)
Melodie McGeoch
10h00-11h00
Round Table of Stakeholder perspectives
10 min introductions by each representative
11h00-11h30
Tea break
11h30-12h00
Naming and defining a process for categorising and prioritising invasive species
All
12h00-13h00
General discussion on the adoption of an IUCN Black Listing process
All
13h00-14h00
Lunch
14h00-14h30
The Black Listing Initiative: the Way Forward
All
END OF STAKEHOLDER MEETING
14h30-17h00
Wrap up of Sessions 1 and 2 as required